Deliverability
Inbox placement and reputation are critical to the success or failure of your email marketing program and your email return on investment. We help email marketers maximize their subscriber reach by providing the data and insights you need to ensure emails get to the inbox.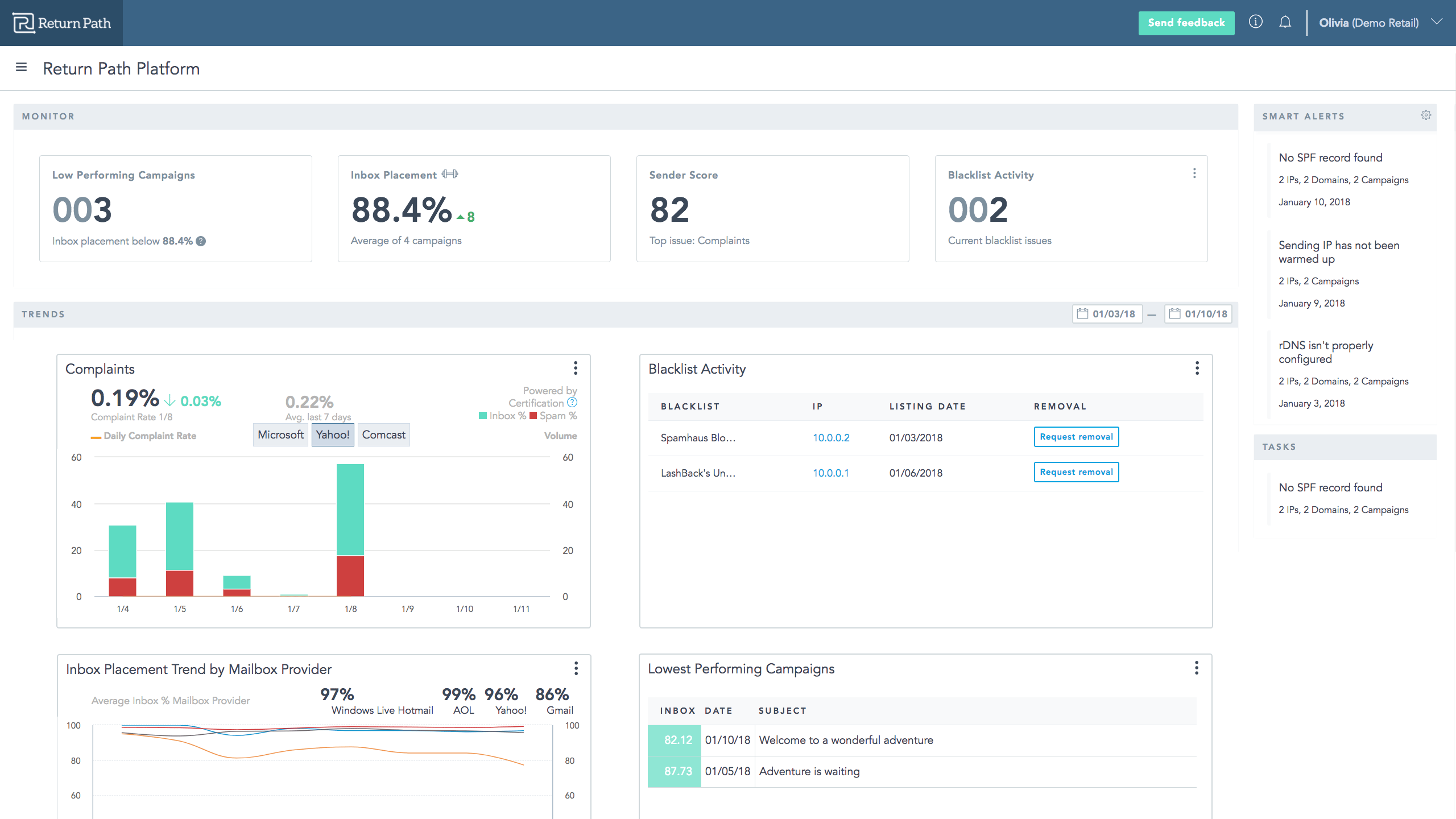 The deliverability landscape is changing, but that doesn't mean it has to be hard to reach your subscribers' inboxes. Email is a vital part of the way you communicate and build relationships with your customers, so ensuring you have extensive knowledge on the performance of your emails is a top priority.
One out of every five
commercial emails never reaches the inbox.
So where do they go? They can be delivered to junk or spam folder, or be outright blocked by a mailbox provider. Getting emails delivered to the inbox involves more than just hitting send.
Why is deliverability insight critical?
There might be issues with your email program you don't have visibility into.
You're experiencing a drop in engagement rates, like open and clicks, and you don't know why.
You're seeing an increase in email bounces but don't know how to combat it.
You want a deeper understanding of how you're placing with mailbox providers but can't figure out how to see it.
You look at the metrics you currently monitor but can't find the root cause and the solution to what's plaguing your program.
With Return Path, our data-driven solutions help email marketers understand their deliverability and take action to reach your subscriber's inbox. This allows you to connect with more customers to drive awareness and revenue.

"As a Digital Marketer, I am a fan of the Return Path Platform, Certification program and Professional Services. Return Path and I work closely together to help Vantage Travel consistently achieve 95%+ Inbox Placement. The insight provided by Return Path helps me strategize and execute to achieve better results."

Rakesh Nautyal, Email Marketing Manager
"Return Path is an invaluable service for our email marketing - not just for day-to-day deliverability, but a service that provides insight and guidance to help us continue to improve."

Rose Crosby, Associate, Email Marketing at Vimeo
Return Path Platform
Differentiate between inbox and spam folder placement, giving you the most accurate and comprehensive information regarding your deliverability. Uncover and improve your sender reputation and see the metrics that mailbox providers are using to evaluate your email program.
Powered by EmailDNA
Return Path puts solutions to any email marketing problem within reach. Our data and analytics go beyond recommendations to solve the constantly evolving challenges that marketers face every day.
Client Services
Whether you're experiencing low inbox placement or a poor sending reputation, Return Path's Client Services team can help. We provide a variety of packages ranging from low cost self-service solutions with onboarding and support to expertly guided full-service solutions with ongoing account management and consulting.
We Know Email
We're experts in deliverability and driving results for your email marketing.