Certification
Reach more subscribers and increase revenue.
Certified senders see inbox placement rates that are
32.5 percentage points higher at the top mailbox providers
on average, compared to similar, non-Certified senders. How? Return Path Certification is the industry's most powerful and unique whitelist, providing benefits at major mailbox providers and filtering companies to ensure your emails reach your subscribers.
More emails in the inbox means more opportunities for your customers to see your message, and ultimately drive increased ROI from the email channel.
By not being Certified, marketers are leaving
$135 billion on the table each year.
Certification is a powerful and unique program
Preferential inbox placement and decreased filtering aren't the only benefits that Certification offers. Certification is much more than a whitelist; it's a unique program that provides insightful, actionable data to help you send with confidence. Certified senders receive mailbox provider data from Return Path to help them understand the true impact of their emails.
The program also includes support and guidance along the way from Return Path. Our dedicated team provides 24/7 security monitoring, and you'll receive alerts if issues are detected, along with specific recommendations on how to resolve them.
Increase subscriber reach and ROI by receiving inbox placement benefits at major mailbox providers and filtering companies.
Understand email performance and impact through insightful, actionable data from mailbox providers.
Maximize email program performance with monitoring and support from Return Path.

"Thousands of people each week rescue pets through our Rescue Me website. If even a single email doesn't get delivered to the Inbox of one of our users, it could mean the difference between life and death for a shelter animal. Thanks to Return Path, all of our emails to Yahoo, Hotmail, and AOL users get delivered promptly to the Inbox."

Jeff Gold, Founder of Rescue Me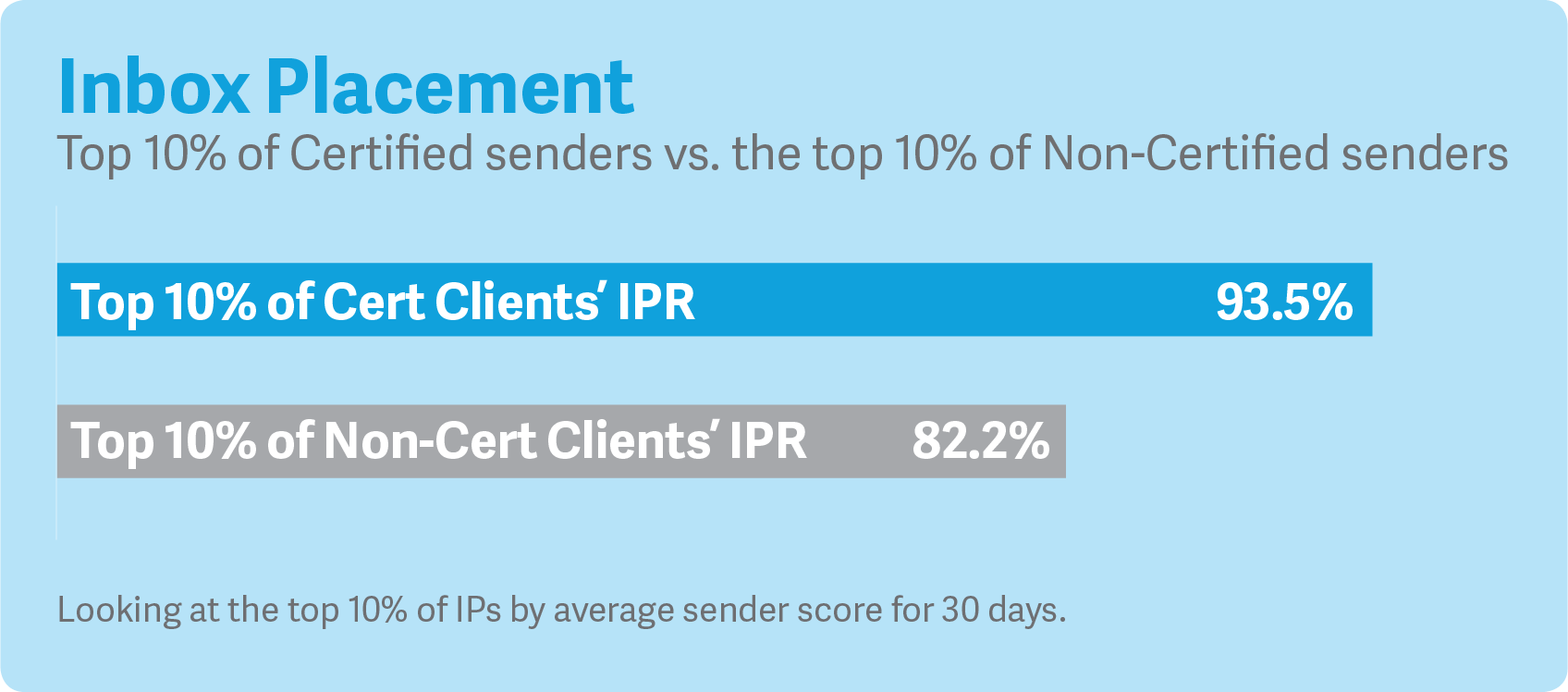 Our program has the highest standards
Not every sender has what it takes to become Return Path Certified. The program is designed for best in class senders that meet top mailbox providers' and subscribers' expectations and follow industry standard best practices.
For those who qualify, the benefits are unparalleled. To become Certified:
Apply for the Certification program through the Return Path website. If you're already a Return Path client, reach out to your account representative or submit a ticket.
We'll review your email program and evaluate your permission practices, email infrastructure, privacy policy disclosures, and more. View our Certification requirements.
If applicable, we'll give you specific recommendations on what needs to be changed or adjusted.
Once Certified, we'll continue to monitor your performance and adherence to requirements. Our experts are always ready to help and ensure that you remain in good standing.

"For us, Certification provides us more than just higher inbox placement rates. It gives us a peace of mind knowing on a daily basis how our emails are being delivered."

Mary Newhoff, Digital Marketing Manager at Tommy Bahama
We Know Email
We're experts in deliverability and driving results for your email marketing.