Return Path Partner Platform
The first and only deliverability platform developed exclusively for ESPs.
As an email service provider (ESP), managing email programs across all of your clients can be challenging. You spend precious time and energy logging into multiple systems to get the information that's required to identify and prioritize clients' deliverability problems. Wouldn't it be great to have all of that data in one place?
That's why we've built the Partner Platform. A single solution built for ESPs, it allows you to see what's happening across your entire infrastructure. This unique platform provides both a high level view as well as the ability to drill down for deeper insights. And the best part? You don't have to be working in the Partner Platform to receive critical alerts about your clients' business. Go on about your day and we'll let you know when there's an issue that needs to be addressed.
The Partner Platform combines Return Path's unique data sources, giving you the insight you need to:
Quickly identify customers with deliverability issues, so that you can let them know they have a problem before they come to you.
Reduce the time and effort required to identify deliverability problems.
Easily identify what's important, surface deliverability issues with individual clients, and holistically monitor your entire client base.
Focus on being more proactive and delivering best-in-class service to your customers.
The Partner Platform is the first deliverability platform designed specifically for ESPs to proactively monitor and diagnose deliverability issues across all clients' email programs.

"Return Path's new Partner Platform empowers the way ESPs proactively monitor deliverability for all clients. This cutting-edge solution is imperative to our day-to-day responsibilities and improving customers' deliverability."

Sophia Jacobson, Senior Director, Deliverability Services

"We use the Partner Platform as part of our daily workflow to easily manage all of our clients in a single dashboard. It allows our teams to quickly identify deliverability or reputation issues so we can provide quick resolutions for our clients."

André Görmer, Director of Deliverability, Mapp Digital

"Using data is a cornerstone of our business model to drive growth for clients. We leverage Return Path's Consumer Network data to make strategic recommendations to help our brands improve Return On Marketing Investment for their email programs. The insights that the Partner Platform provides gives us a complete picture of what's happening across our entire client base."

John Stephenson, VP of Campaign Assurance, Digital Solutions Epsilon

"The Partner Platform has helped us be able to quickly monitor inbox placement rates at the top ISPs across all of our clients via subscriber data. With the addition of the Reputation Factors, List Management Indicators and Read Rate percentage, we're able to work with our partners and clients on not only improving deliverability, but also response rates."

Scot Berggren, Deliverability and Compliance Manager, Alterian US
Proactively Surface Issues to Clients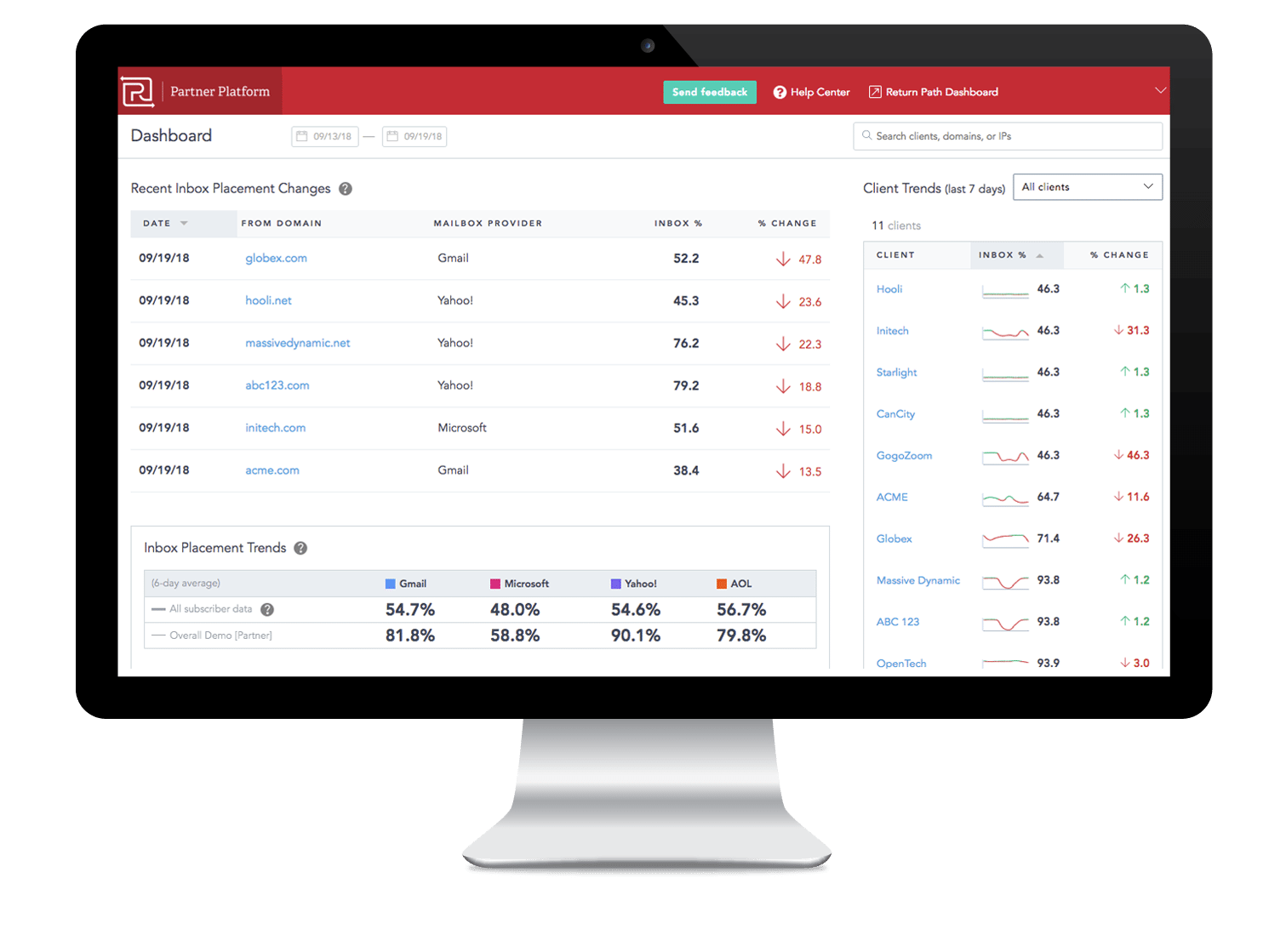 When you have to log into multiple client systems to get the information you need, you can't always identify a client's problem before they do. The Partner Platform surfaces deliverability issues in near real time so you can proactively let your client know they have a problem before they come to you. And it gives you the ability to customize a book of business so you can easily manage the clients you interact with the most.
Identify Client Problems in a Streamlined Approach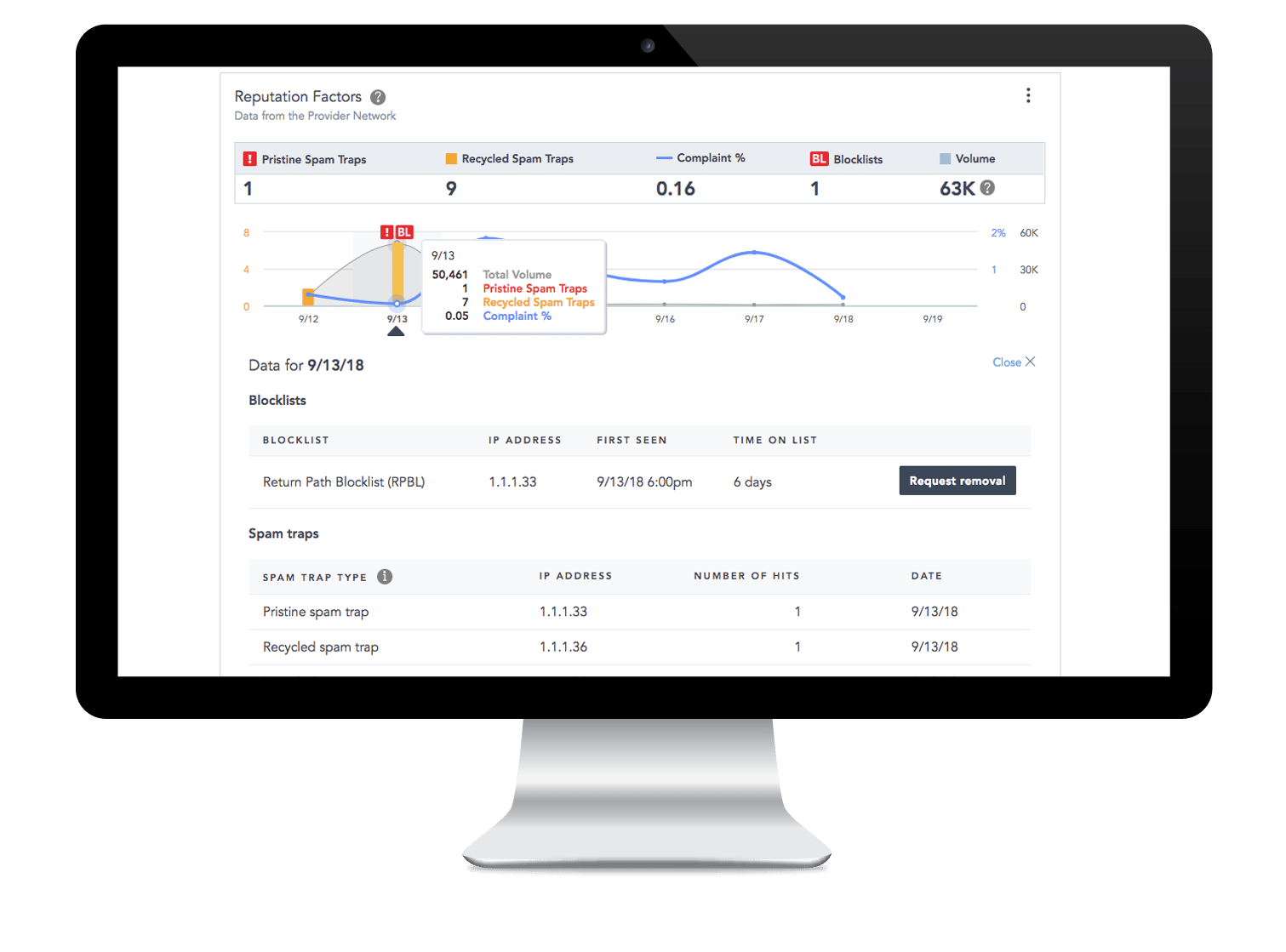 The Partner Platform combines all the monitoring and diagnostic information you need in one place, therefore reducing the time and effort required to identify client deliverability problems. Data is presented in a high level overview for all of your clients, with the ability to drill down by client, IP reputation indicators, and IP address and domain. Not in the Partner Platform? Not a problem. We'll alert you when one of your clients has a deliverability issue, such as landing on a critical blocklist or hitting a pristine trap.
See Across Your Entire Infrastructure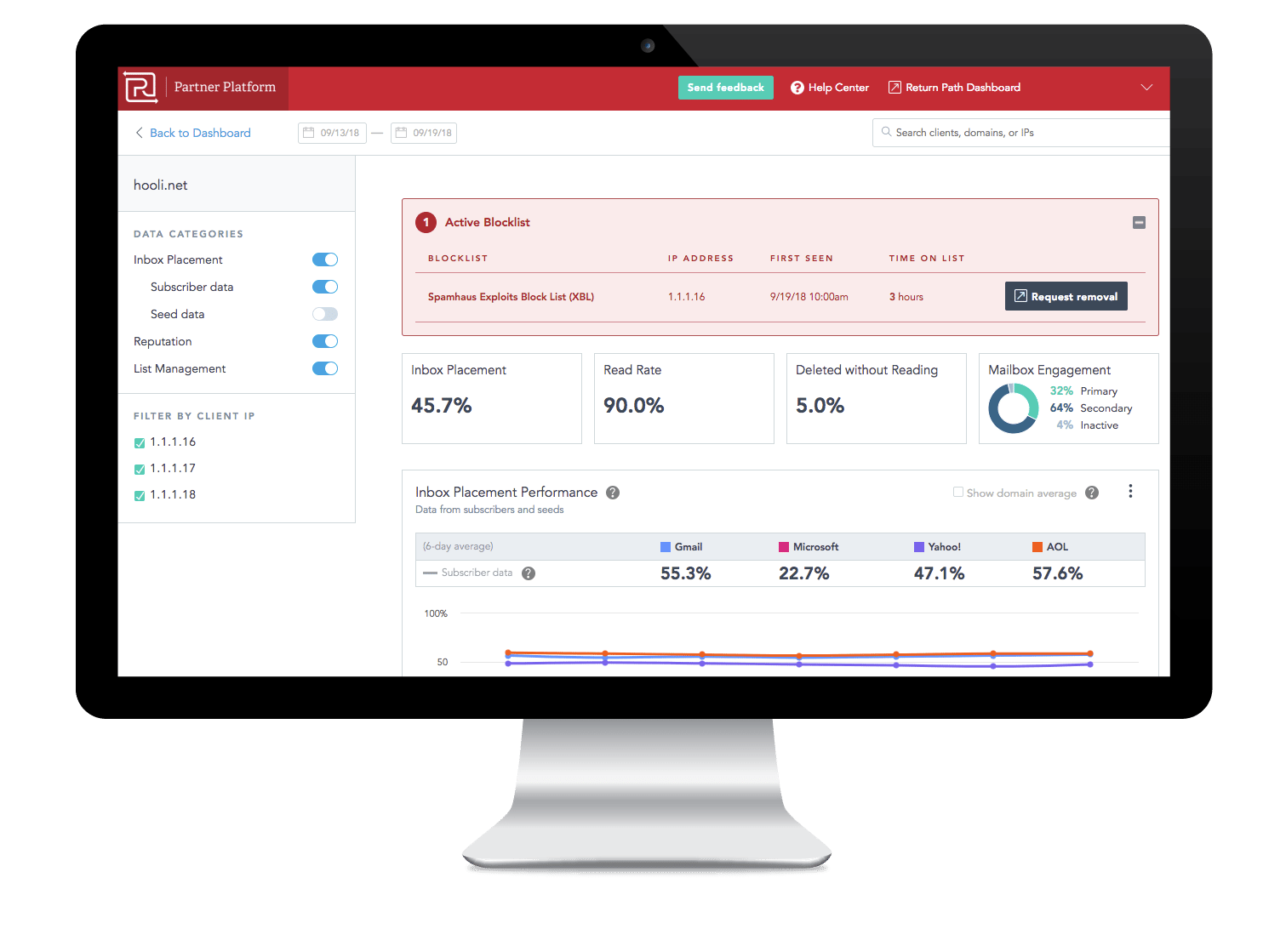 Leveraging Return Path's unique data assets, the Partner Platform paints a complete picture of what's happening across your entire infrastructure. Built on Return Path's Consumer Network, it provides inbox and spam folder placement analysis from subscribers at major mailbox providers, combined with seed, list hygiene, and other diagnostic data that impacts reputation. The platform offers visibility like never before, with information layered together to provide meaningful metrics and insights.
Partner Services
Return Path is committed to making sure you get the most out of your partnership through a variety of service options. As part of the Return Path Partner Program, we provide onboarding and support, offered at different levels to align with your business goals. The Return Path service team offers varying degrees of support to ensure you're a successful Return Path partner.
We Know Email
We're experts in deliverability and driving results for your email marketing.